Atlas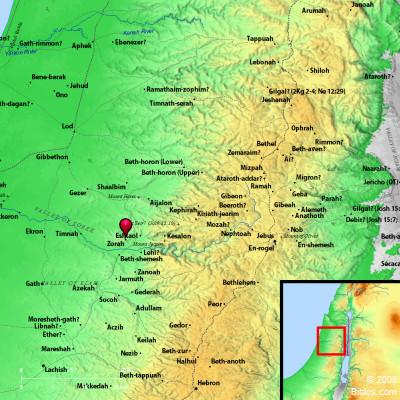 ---
Maps Created using Biblemapper 3.0
Additional data from OpenBible.info
---
You are free to use up to 50 Biblos coprighted maps (small or large) for your website or presentation. Please credit Biblos.com.
Occurrences
Joshua 15:33
In the lowland, Eshtaol, Zorah, Ashnah,
Joshua 19:41 The border of their inheritance was Zorah, Eshtaol, Irshemesh,
Judges 13:2 There was a certain man of Zorah, of the family of the Danites, whose name was Manoah; and his wife was barren, and didn't bear.
Judges 13:25 The Spirit of Yahweh began to move him in Mahaneh Dan, between Zorah and Eshtaol.
Judges 16:31 Then his brothers and all the house of his father came down, and took him, and brought him up, and buried him between Zorah and Eshtaol in the burial site of Manoah his father. He judged Israel twenty years.
Judges 18:2 The children of Dan sent of their family five men from their whole number, men of valor, from Zorah, and from Eshtaol, to spy out the land, and to search it; and they said to them, "Go, explore the land!" They came to the hill country of Ephraim, to the house of Micah, and lodged there.
Judges 18:8 They came to their brothers to Zorah and Eshtaol: and their brothers said to them, "What do you say?"
Judges 18:11 There set forth from there of the family of the Danites, out of Zorah and out of Eshtaol, six hundred men girt with weapons of war.
2 Chronicles 11:10 and Zorah, and Aijalon, and Hebron, which are in Judah and in Benjamin, fortified cities.
Nehemiah 11:29 and in En Rimmon, and in Zorah, and in Jarmuth,
Encyclopedia
ZORAH
zo'-ra (tsor`ah; Saraa): A city on the border of Dan, between Eshtaol and Ir-shemesh (Joshua 19:41); the birthplace of Samson (Judges 13:2, 25); near here too he was buried (Judges 16:31); from here some Danites went to spy out the land (Judges 18:2, 11). In Joshua 15:33 it is, with Eshtaol, allotted to Judah, and after the captivity it was reinhabited by the "children of Judah" (Nehemiah 11:29, the King James Version "Zareah"). It was one of the cities fortified by Rehoboam (2 Chronicles 11:10). It is probable that it is mentioned under the name Tsarkha along with Aialuna (Aijalon; 2 Chronicles 11:10) in the Tell el-Amarna Letters(No. 265, Petrie) as attacked by the Khabiri.

It is the modern Sur`a, near the summit of a lofty hill on the north side of the Wady es-Surar (Vale of Sorek). The summit itself is occupied by the Mukam Nebi Samit, overhung by a lofty palm, and there are many remains of ancient tombs, cisterns, wine presses, etc., around. From here Eshu`a (Eshtaol), `Ain Shems (Beth-shemesh) and Tibnah (Timnah) are all visible. See PEF, III, 158, Sh XVII.

E. W. G. Masterman
---
ZORAH, or Zore'ah and Za'reah, now called Surah, 13 ms. w. of Jerusalem. It is a village on the top of a hill, 1170 ft. above the Mediterranean, overlooking the valley of Sorek. Josh. 19; 41, Judg. 13:2, 25, 16:31, 18:2, etc.
Strong's Hebrew
H6881: Tsorah
a city exchanged by Judah and Dan